Mares
Walk-Ons
Dartbrook Downs is ideally sited to provide services to walk-on mares. We are located in Scone, with close proximity to all stallions and transport companies in the Hunter Valley.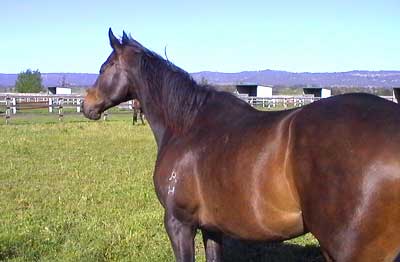 We are located:
» 15 minutes to Darley, Vinery and Arrowfield
» 45 minutes to Emirates
» 1 hour to Coolmore and Woodlands
See Location for more information
Visiting Mares
This walk-on service is especially useful for visiting mares on shortstay agistment.
Dry Mares
To increase your mare's chances of a successful breeding cycle, we can put your mare 'under lights'.
Foaling Down
We have an established setup to provide for the foaling down cycle, which allows for the mare's movement through pasture improved paddocks prior to the final stages of foaling down.
During breeding season we undertake 'nightwatch' supervision to provide maximum security for the mare and foal.
Veterinary Care
Scone provides 24 hour 7day veterinary services—Scone Vet Hospital and Satur Vet Clinic are 5 minutes from Dartbrook Downs.
We also have basic veterinary facilities onsite.